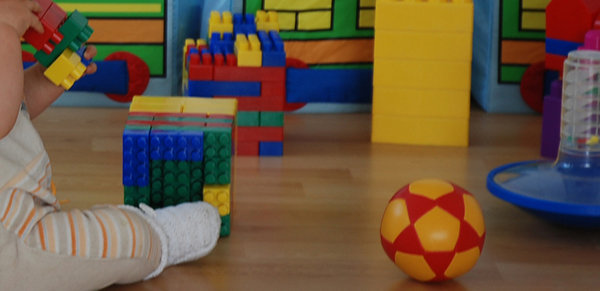 NEW: Childcare subsidy for infants (3-12 m) of students and postdocs
The Max Planck Society will reimburse 50% of the childcare costs for children age 3-12 months, up to a maximum of 400 EUR a month, for a maximum of 10 months. The subsidy is only available to doctoral students with an MPG support contract, and for post-docs with TVöD contract; more information here. This is a pilot project running between July 1st 2017 and June 30th, 2018 only. The available funds are limited, so we encourage all MPIKG members who meet the formal eligibility criteria to apply as soon as possible.

To apply: fill in this form and bring it to Jasmin Müller in the Personnel Department. She will forward your application to the central administration.


Reimbursements on short-term child care while attending work-related events
For more information on this topic, please see http://www.mpikg.mpg.de/382664/02Kurzzeitige_Kinderbetreuung

---

General Information
All Parents have the right to get a child care of 6h a day starting from the first year. If both parents are employed 8h can be used. Reasons have to be explained if more than 6h are needed but one parent is not employed. One reason could be the integration and promotion of the language. If there are enough free places available in Potsdam you can get 8h child care.

Your child can be registered for a kindergarten for a nanny, a nursery (8 weeks to 3 years) for a nursery school (3 to 6 years) or a after school care center (up to 4h in the afternoon for school kids independent of the employment status of the parents).You can choose if you prefer a nanny or a nursery until the age of 3.

The acclimatisation time of approx. 2 weeks for smaller children and approx. 10 days for children starting from 3 years will make the changes easier for your child and allow developing a trustful contact to the kindergarten worker. Because of start of school in September many Kindergartens are reorganised in this time. Free places can also be available at the beginning of August. This means if you move to Potsdam in Mai and cannot find free places the situation can change significantly in a short time.

In the brochure Child care in Potsdam the child care facilities are listed. You have the free choice which one you want to take. There are free places in Potsdam but they can be in another social district. It is recommended to register and visit 2 or 3 facilities if there are no free places.

A registration in the Kita Springfrosch with our cooperation partner Fröbel can be made in our personnel office. The MPICI holds 10 contingent places where a waiting list exists at the moment. The decision if your child can go into a specific kindergarten is in the responsibility of the agencies. This includes the decision about the health and pedagogic aptitude of the child. The Elternbeitrag (parent's fee) has to be paid by the parents.

The institute can pay a grant to an agency (now also to a private nanny or a nanny of a social organisation) to balance a deficit of places for child care if a confirmation is written. The child has to be younger than 12 years and the child care must be located outside the flat of the parents. The grant is tax and social insurance free for the parents because the MPG will pay this for reasons of income tax equality. This is also valid for stipend holders and guests. The child has to be younger than school age.