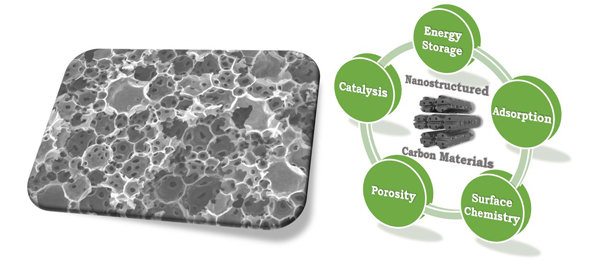 Energy and Environmental Utilization of Carbon Nanomaterials
Der Fokus der Forschung liegt auf der Entwicklung nanostrukturierter Kohlenstoffmaterialien mit maßgeschneiderten Eigenschaften für Energie- und umweltrelevante Anwendungen. Besonders nanoporöse Kohlenstoffmaterialien mit hoher innerer Porosität sind von Interesse, da diese große zugängliche Oberflächen im Bereich mehrerer 1000 m2/g mit hoher chemischer/thermischer Stabilität und elektrischer Leitfähigkeit kombinieren. Derartige Strukturen sind Schlüsselkomponenten in zukünftigen Energiespeichersystemen, in der Gasreinigung und als Trägermaterialien für metallische Nanopartikel in der heterogenen Katalyse. Damit können sie zu einer nachhaltigen Entwicklung des Energiehaushaltes unserer Gesellschaft beitragen.
Wir setzen neuartige Formgebungsmethoden im Nanometerbereich ein, um die Porengröße, die Porengeometrie und die Porenkonnektivität dieser Materialien mit größtmöglicher Präzision maßzuschneidern. Darüber hinaus werden gezielt Heteroatome in das Kohlenstoffgerüst eingebaut um die elektronischen Eigenschaften und die Oberflächenchemie zu modifizieren. Die Leistungsfähigkeit der entwickelten Materialien in Gasadsorption, elektrochemischer Energiespeicherung und heterogener Katalyse werden mit den textuellen und elektronischen Eigenschaften korreliert. Auf diese Weise ist es möglich, ein besseres Verständnis für Struktur-Eigenschaftsbeziehungen in den entsprechenden Applikationen zu entwickeln.