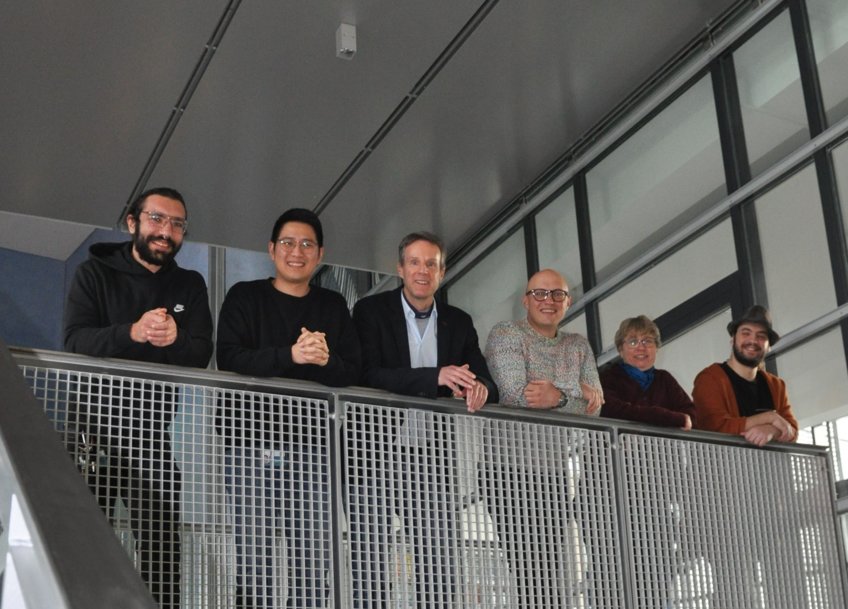 Publikationen von Tobias Heil
1.
Zeitschriftenartikel
2
hybrids with nitrogen-doped carbon quantum dots and/or reduced graphene oxide. Journal of Materials Chemistry A
11
(18), S. 9791 - 9806 (2023)
Outstanding visible light photocatalysis using nano-TiO
2.
Zeitschriftenartikel
Coordinative stabilization of single bismuth sites in a carbon–nitrogen matrix to generate atom-efficient catalysts for electrochemical nitrate reduction to ammonia. Advanced Science
3.
Zeitschriftenartikel
2
reduction. Chemical Communications
58
(31), S. 4841 - 4844 (2022)
Mn (II) sub-nanometric sites stabilization in noble, N-doped carbonaceous materials for electrochemical CO
4.
Zeitschriftenartikel
2
reduction reaction to formic acid. Nano Energy
97
, 107191 (2022)
Ni-based electrocatalysts for unconventional CO
5.
Zeitschriftenartikel
Electrochemical generation of catalytically active edge sites in c2n-type carbon materials for artificial nitrogen fixation. Small
6.
Zeitschriftenartikel
Chemical vapor deposition of highly conjugated, transparent boron carbon nitride thin films. Advanced Science
7.
Zeitschriftenartikel
Sustainable cathodes for lithium-ion energy storage devices based on tannic acid—toward ecofriendly energy storage. Advanced Sustainable Systems
8.
Zeitschriftenartikel
Ultrahigh water sorption on highly nitrogen doped carbonaceous materials derived from uric acid. Journal of Colloid and Interface Science
9.
Zeitschriftenartikel
2
with water as the donor of electrons and protons. Applied Catalysis B: Environmental
285
, 119773 (2021)
All-organic Z-scheme photoreduction of CO
10.
Zeitschriftenartikel
Laser-carbonization: peering into the formation of micro-thermally produced (N-doped)carbons. Carbon
11.
Zeitschriftenartikel
Light-driven directional ion transport for enhanced osmotic energy harvesting. National Science Review
12.
Zeitschriftenartikel
Laser-driven growth of structurally defined transition metal oxide nanocrystals on carbon nitride photoelectrodes in milliseconds. Nature Communications
13.
Zeitschriftenartikel
2
and CH
4
production from bio-alcohols using condensed poly(heptazine imide) with visible light. Journal of Materials Chemistry A
9
(48), S. 27370 - 27379 (2021)
H
14.
Zeitschriftenartikel
15
(4), S. 6551 - 6561 (2021)
Enhanced organic photocatalysis in confined flow through a carbon nitride nanotube membrane with conversions in the millisecond regime. ACS Nano
15.
Zeitschriftenartikel
8
(6), S. 3270 - 3279 (2020)
Continuous hydrothermal flow synthesis of blue-luminescent, excitation-independent N-doped carbon quantum dots as nanosensors. Journal of Materials Chemistry A
16.
Zeitschriftenartikel
22
(9), S. 2755 - 2766 (2020)
Nickel on nitrogen-doped carbon pellets for continuous flow hydrogenation of biomass derived-compounds in water. Green Chemistry
17.
Zeitschriftenartikel
Laser-induced carbonization of natural organic precursors for flexible electronics. Advanced Electronic Materials
18.
Zeitschriftenartikel
142
(49), S. 20883 - 20891 (2020)
Boron carbon nitride thin films: from disordered to ordered conjugated ternary materials. Journal of the American Chemical Society
19.
Zeitschriftenartikel
Shine bright like a diamond: new light on an old polymeric semiconductor. Advanced Materials
20.
Zeitschriftenartikel
1
N
1
. ChemSusChem
13
(24), S. 6643 - 5560 (2020)
Guanine derived porous carbonaceous materials: towards C