Jiayin Yuan has been awarded a Dr. Hermann Schnell Fellowship of the GDCh (Gesellschaft Deutscher Chemiker; German Chemical Society)
The Chemist from the Max Planck Institute of Colloids and Interfaces will receive the award at the GDCh Scientific Forum Chemistry in Dresden from 30 August to 2 September 2015. The prize is endowed with 6,000 EUR. The foundation trustees appreciate Yuan's excellent results in the development of innovative, functional charged polymers, so-called poly(ionic liquid)s (PILs).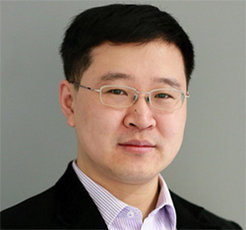 The polymer chemist and his team investigate particularly a class of special charged polymers, so-called poly(ionic liquid)s. One core theme is the development of new types of nanoporous asymmetric polyelectrolyte membranes, named NAPOLI. Such membranes show a structure synergy of very tiny pores and a high charge density. Consequently they have unique physical properties such as highly size/charge selective interactions to passing molecules.
"What is very unique in this newly developed porous membrane is the fact that it features a gradient profile. That means a crosslinking density gradient along its cross-section." Jiayin Yuan explained. In this way molecules can selectively pass through and interact with the membrane in a site-specific manner. This could be of big importance for environmental or energy technology.
Jiayin Yuan
Jiayin Yuan comes originally from China and studied chemistry at the Shanghai Jiao Tong University. After moving to Germany he went first to the University Siegen before he then moved to the University of Bayreuth. There Yuan received his PhD (Summa cum laude) supervised by Axel H. E. Müller in 2009. After postdoctoral work with Markus Antonietti at the Max Planck Institute of Colloids and Interfaces in Potsdam-Golm, he started his independent career in 2011. Since then he is leading a research group in the department of Colloid Chemistry. In 2014, he received one of the ERC Starting Grants. Endowed with up to 1.5 Mio EUR this grant promotes basic research on nanoporous polymer membranes in the next five years.
Dr. Hermann Schnell Scholarships
The "Dr. Hermann Schnell Foundation" supports young scientists in the field of macromolecular chemistry, its physico-chemical fundamentals, and its analysis. Support will be given to postgraduates from universities or other institutions under public law. Partial scholarships for participating in important scientific meetings are also on offer. Scholarships up to 6,000 Euro are available.