Markus Antonietti receives Gay-Lussac Humboldt Prize
Prof. Dr. Dres. h.c. Markus Antonietti, director at the MPI of Colloids and Interfaces, was awarded the Gay-Lussac Humboldt Prize. The French Ministry of Higher Education and Research and the Alexander von Humboldt Foundation under the aegis of the French Academy of Sciences have announced the prize winner on 22 January 2016.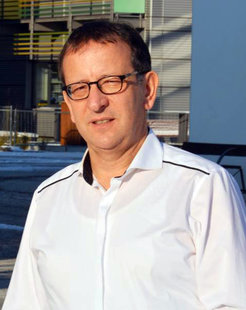 Antonietti was nominated for the award to highlight his commitment in sustainable materials on the basis of renewable resources and in artificial photosynthesis. The jury described Antonietti as a scientist who is doing research with a "very high level of creativity and with exceptional impact on literature".
Long-term goal of the German-French Collaboration is the development of new types of functional nanomaterials (with Prof. Clement Sanchez, Université Pierre et Marie Curie und Collège de France), the research of innovative, catalytic methods integrating biology and inorganic vectors to convert carbon dioxide into useful molecules (with Prof. Marc Fontecave, Collège de France), and the generation of new value components from biomass in supercritical processes (with Prof. Cyril Aymonier, ICMCB Bordeaux).
The Gay-Lussac Humboldt Prize

The Gay-Lussac Humboldt Prize was first presented in 1983 and is valued at €60,000. The French Ministry of Higher Education and Research (Ministère de l'enseignement supérieur et de la recherche) presents the award each year. Two awards go to German researchers with international standing, who are proposed by the French partners with whom they have collaborations. The award is presented with the cooperation of the Académie des sciences - Institut de France, which appoints the judging panel from academy members.