Agnes Meyer-Brandis (Germany) and the duo Otavio Schipper & Sergio Krakowski (Brazil) present their work at the Max Planck Campus (Potsdam-Golm Science Park).
On occasion of the Max Planck Day on September 14th 2018, KLAS artists-in-residence Agnes Meyer- Brandis and Otavio Schipper/Sergio Krakowski will present works developed during their residency at the interface of Synthetic Biology.
12 September - 12 October 2018 Max Planck Campus, Potsdam-Golm Science Park (Germany)
Vernissage of the first KLAS presentation, September 11th, 1.30-3.00 pm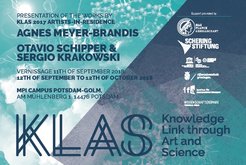 One year has gone by since the KLAS awardees spent time at the labs of Dr. Tom Robinson (Biomicrofluidic Systems), Dr. Arren Bar-Even (Systems and Synthetic Metabolism), Dr. Alex de Vries (Molecular Dynamics) and Prof. Jan Kok (Molecular Genetics). Conversations with the research teams, exchanges of ideas, understanding what synthetic biology is, what art can be…it is now time for the artists to show us what piqued their curiosity and how they shape this knowledge, imagination and vision.

Agnes Meyer-Brandis probes the fragile border and tension between fact and fiction. Developed during her residency at KLAS, the Microfluid Chip Oracle and Answering Machine (MCO&AM) is a very small drawing and cybernetic agent that can only be observed with the help of a microscope. It is an oracle driven by droplets that run through the handwritten text like blood through a vain or sap through a plant. A machine unveiling a glimpse into a universe of questions that surface/appear in front of our telescopes and microscopes opposing a simple "yes" or "no".
Fascinated by the history of objects and memory as much as by the concepts of communication and coding, Otavio Schipper and Sergio Krakowski inquire into the origins of science, tradition, and imagination. For KLAS they will be presenting Golem, a video installation and a short story by Stephen Berg.

KLAS "Knowledge Link through Art and Science"
Knowledge Link through Art and Science (KLAS) is an Artist-in-Residence program of the Max Planck Society. KLAS fosters ArtSci exchange and transdisciplinary innovation and education whilst also establishing a link between Synthetic Biology research groups of two research institutions - Rijksuniversiteit Groningen [RuG] and two Max Planck Institutes [MPIKG & MPIMP]. In addition to awarding two Artist Residencies in 2017, KLAS will present a series of events and conversations around specific thematic topics. KLAS is funded by the Max Planck Society, Schering Stiftung and Polyhedra.

The next KLAS event - finissage, Science-in-Society meet-up and award session - is planned for spring 2019.