Change of Managing Director
Markus Antonietti takes over for two years
01.01.2023
In accordance with the rotation principle, chemist Professor Markus Antonietti will hold the position as Managing Director at the Max Planck Institute of Colloids and Interfaces (MPICI) for two years, starting on January 1, 2023. He replaces the physicist Professor Peter Fratzl.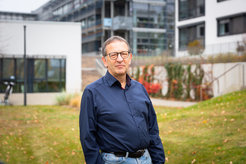 The scientific and administrative management of the Max Planck Institute of Colloids and Interfaces is subject to a board of directors consisting of four directors. One of the four institute directors is appointed to this office from the four-member board of directors on a rotating basis for two years. From January 1, 2023 to December 31, 2024, Markus Antonietti will now hold the office.
In 1993, at the age of only 33, Markus Antonietti became one of the three founding directors of the Department of Colloid Chemistry at the institute. His research field is colloid and interface research, which deals with the smallest particles in the micro- and nanometer size range. In his current eight research groups, the focus is on sustainable chemistry. He is concerned with processes inspired by nature, such as "artificial photosynthesis," which converts solar energy directly into chemical storage and value molecules, and "artificial humic matter" to improve soil quality. The goal is also to produce high-value materials from biowaste that could be used to store energy in rechargeable batteries or supercapacitors. Markus Antonietti is the first German chemist to have received three awards from the European Research Council's (ERC) global grants: In 2020, he received the Synergy Grant for the development of a sustainable
battery, one of the highest research prizes in Europe. He wants to make energy storage systems affordable for the future sustainable power supply of households and society. Recently, he has achieved breakthroughs in the synthesis of functional carbon-based materials based on renewable resources.
With well over 900 scientific publications in books and journals, Markus Antonietti is one of the most-cited German chemists. He also holds over 90 patents and is the recipient of numerous awards, including the Hermann-Staudinger Prize of the German Chemical Society (2020), the Federal Cross of Merit 1st Class (2018), and the Liebig Medal (2016). He is a member of the Berlin-Brandenburg Academy of Sciences and Humanities.