Dr. Jiayin Yuan receives ERC Starting Grant
One of the prestigious ERC Starting Grants of the European Research Council goes to Dr. Jiayin Yuan, research group leader in the Max Planck Institute of Colloids and Interfaces (Potsdam). Endowed with up to 1.5 Mio EUR this grant promotes basic research on nanoporous polymer membranes in the next five years.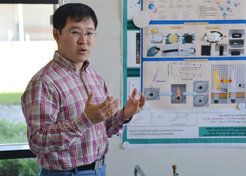 Since 2011 Jiayin Yuan works as a research group leader in the Department of Colloid Chemistry which is directed by Prof. Dr. Markus Antonietti. The polymer chemist investigates particularly a class of special charged polymers, so-called poly(ionic liquid)s. One core theme is the development of new types of nanoporous asymmetric polyelectrolyte membranes, named "NAPOLI". Such membranes show a structure synergy of very tiny pores and a high charge density. Consequently they have unique physical properties such as highly size/charge selective interactions to passing molecules. These membranes prepared from a solution casting route can serve as high performance sensors.
Structurally these NAOPOLI membranes consist of an ionic network built up from crosslinking of ionic polymers via multiacids. The membrane top layer has a higher crosslinking density, thus harder than the soft bottom part. Consequently, a crosslinking density gradient exists in the membrane cross-section from top to bottom. "What is very special in this newly developed membrane is the fact that it features a gradient profile. That means a crosslinking density gradient along its cross-section." Jiayin Yuan explained. In this way selective molecules can pass through and interact with the membrane in a different manner.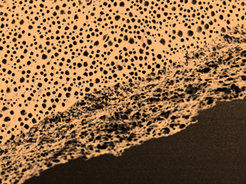 Such membranes can be very useful in the sustainable treatment of tap- and waste water. The smaller the pores are, the more sensitive the membrane will be for the detection of trace amount of toxic heavy metal ions or organic dyes. So water contamination even at a rather low concentration can be identified and filtered off. Nanotechnology-based membranes in the future can also be able to separate cations and anions. This feature is a decisive advantage to fabricate advanced nano-generators.
ERC Starting Grants
ERC Starting Grants aim to support up-and-coming research leaders who are about to establish a proper research team and to start conducting independent research in Europe. The scheme targets promising researchers who have the proven potential of becoming independent research leaders. It will support the creation of excellent new research teams.
ERC Starting Grants in brief
For researchers of any nationality with 2-7 years of experience since completion of PhD (or equivalent degree) and scientific track record showing great promise
An excellent research proposal
Research must be conducted in a public or private research organisation (known as a Host Institution/HI) located in one of the EU Member State or Associated Countries
Funding per grant: up to € 1.5 million (in some circumstances up to € 2 million)
Duration: up to 5 years
Sole evaluation criterion: scientific excellence of researcher and research proposal
Calls for proposals: published once a year