Honorary Doctorate for Professor Markus Antonietti
Prof. Dr. Markus Antonietti, Director of the Department of Colloid Chemistry at the Max Planck Institute of Colloids and Interfaces in Potsdam, received an honorary doctorate from Stockholm University. SU is one of the largest and also most important universities in Scandinavia.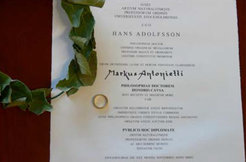 In its annual academic ceremony on September 30th, 2011 Stockholm University awarded a "Doctor philosophiae honoris causa" to the chemist Markus Antonietti.

Markus Antonietti received this Award for his work in the area of sustainable functional materials on the base of plant biomasses. In his projects, Antonietti could also delineate pathways to lower the CO2 pollution of the atmosphere by simultaneous generation of biological and economic added value. These approaches could help especially countries like Sweden to become less dependent on crude oil imports and accomplish the CO2 – neutrality of whole regions.