Eugene Zubarev is visiting scientist at the Max Planck Institute of Colloids and Interfaces in Potsdam-Golm
Zubarev, associate professor of chemistry and materials science and nanoengineering at Rice University, was the first faculty member to win a Friedrich Wilhelm Bessel Research Award from the Alexander von Humboldt Foundation. The official award presentation took place on June 11, 2015 at the Humboldt Foundation's Annual Meeting in Berlin.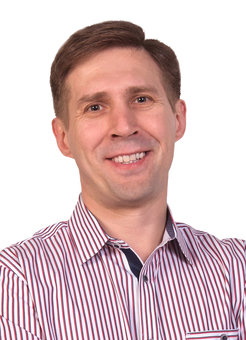 This award, which is endowed with EUR 45,000 in total will give Zubarev an opportunity to pursue an extraordinarily promising line of research that is focused on the self-assembly and patterning of various nanomaterials and biopolymers. Recent findings made by Zubarev's group have produced regular patterns of collagen fibers that could work as two-dimensional scaffolds in both tissue engineering and studies of live cells.
Friedrich Wilhelm Bessel Research Award
Scientists and scholars from abroad, internationally renowned in their field, who completed their doctorates less than 18 years ago and who in future are expected to continue producing cutting-edge achievements which will have a seminal influence on their discipline beyond their immediate field of work, are eligible to be nominated for a Friedrich Wilhelm Bessel Research Award.