Jiayin Yuan has been awarded the Dozentenpreis from the Fund of Chemical Industry
The Chemist from the Max Planck Institute of Colloids and Interfaces will receive the highly endowed award in Düsseldorf on 9 May 2016. The foundation trustees appreciate Yuan's excellent performance in his independent work to mark him as one of the next generation academic leaders.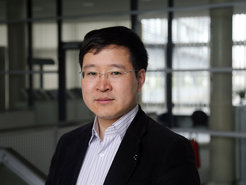 The polymer chemist and his team investigate a topic so-called poly(ionic liquid)s. This innovative functional material is made on the basis of organic salts called ionic liquids, which are liquid and ion-conductive at room temperature or in general below 100 oC. The designed polymers are in contrast rather solid than liquid.
The goal is to develop high-performance materials from poly(ionic liquid)s by studying their structure diversity, controlling their mesoscale morphology and architectures, and demonstrating their potential applications in the field of energy and environmental remediation. His international team contributes actively to the field by pushing forward the understanding of fundamental properties and broadening the application spectrum of this polymer class, such as battery binders, and nanoporous membranes. Jiayin Yuan sees just one of the opportunities offered by his research object: "We want to show that poly(ionic liquid)s enable applications that are inconceivable using other materials."
Jiayin Yuan
Jiayin Yuan studied chemistry at the Shanghai Jiao Tong University. After moving to Germany he went first to the University of Siegen before he then moved to the University of Bayreuth. There Yuan received his PhD (Summa cum laude) supervised by Axel H. E. Müller in 2009. After postdoctoral work with Markus Antonietti at the Max Planck Institute of Colloids and Interfaces in Potsdam-Golm, he started his independent career in 2011. Since then he is leading a research group in the department of Colloid Chemistry. In 2014, he received one of the ERC Starting Grants. Endowed with up to 1.5 Mio EUR this grant promotes basic research on nanoporous polymer membranes in the next five years. He received the Otto-Warburg Award in 2009 and Dr. Hermann-Schnell Award in 2015.
Dozentenpreis
The "Dozentenpreis" awards annually the most outstanding young scientists in the field of chemistry. The awardees must pass a 2-round nomination process.