Joanna Aizenberg, pioneer in bio-inspired material science, was elected by the Max Planck Society as External Scientific Member of the Max Planck Institute of Colloids and Interfaces in Potsdam
Joanna Aizenberg is the Amy Smith Berylson Professor of Materials Science at Harvard's School of Engineering and Applied Sciences, the Co-Director of The Kavli Institute for Bionano Science and Technology, professor of Chemistry and Chemical Biology at Harvard University, and Core Faculty Member of the Wyss Institute for Biologically Inspired Engineering. She was appointed as a new external member of the Max Planck Institute of Colloids and Interfaces in Potsdam by the senate of the Max Planck Society.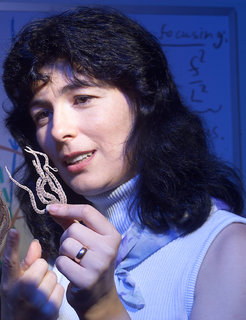 With this appointment, the Max Planck Society honors Joanna Aizenberg as an outstanding scientist and aims at deepening her close and fruitful cooperation with the Max Planck Institute of Colloids and Interfaces. Prof. Aizenberg is one of the most prominent figures in the field of biologically inspired materials science. Her research aims at understanding basic principles of biomineralization and of structure-property relationships in biogenic materials. She is inspired by the economy with which biology solves complex problems in the design of functional inorganic materials and then uses these principles as guidance in developing new, bio-inspired synthetic routes and nanofabrication strategies that lead to advanced materials and devices.

Pioneer in bio-inspired material science
Prof. Aizenberg has been pioneering many aspects of biomimetic inorganic materials synthesis and nanofabrication, touching areas such as biomineralization, self-assembly, adaptive materials, crystal engineering, surface wettability, biomaterials, and biomechanics. Inspiration comes from design principles of natural materials — such as sponges, pitcher plants or and sea urchins — and is aimed at serving human needs in engineering or medicine. The Max Planck Institute of Colloids- and Interfaces will profit from new opportunities arising from this partnership with her, especially in the field of active and adaptive materials.