"Presidential Award for Young Scientists" goes to Svitlana Filonenko
Svitlana Filonenko, group manager at the Max Planck Institute of Colloids and Interfaces, received the Award of the President of Ukraine for Young Scientists. She was honored for her excellent research on catalytic methods for biomass processing. The prize ceremony was held on June 6th 2019 in Kyiv.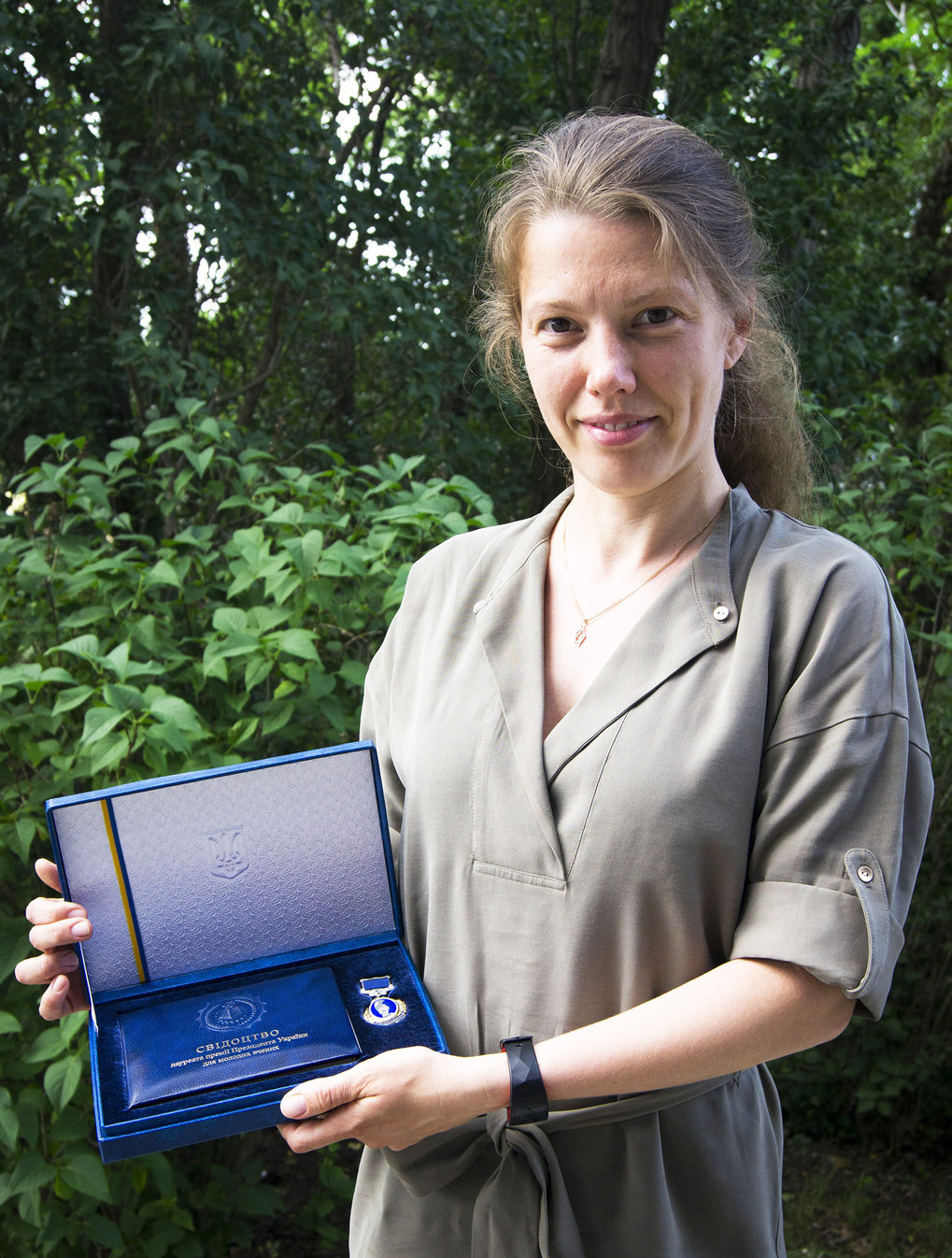 The use of non-regenerative, polluting resources such as petroleum, natural gas and coal will inevitably lead to their exhaustion. Nowadays the alternative use of sustainably produced biomass is particularly attractive for the production of chemicals, biofuels, polymers and composites.

"It is important to think about the future of our planet, climate change and nature distortion. All these concerns largely depend on the industry technologies and resources we use. Developing sustainable resources for industry and for decreasing pollution are important factors for minimizing the environmental impact," emphasizes Svitlana Filonenko.

The scientist therefore developed new catalysts and photocatalysts based on carbon materials, zeolites and carbon nitrides for biomass conversion. The composite structure of biomass and the close intersection of its components make the conversion processes complex and challenging. This requires demanding and different approaches. It is possible to obtain target-focused catalysts by controlling the surface and the functionalities. This applies for a variety of chemical reactions of biomass transformation:
into fuels (arabinogalacton conversion into hydroxymethylfurfural and furfural)
into chemicals (acetic aldehyde formation)
into pharmaceuticals (paramenthanic diol exhibiting anti-Parkinson activity)
Svitlana Filonenko is continuing her research at the Max Planck Institute of Colloids and Interfaces in Potsdam now. Here she designs novel approaches for biomass conversion such as innovative solvents for biomass treatment. The work is inspired by naturally occurring eutectic mixtures formed by metabolites as in cells of organisms. The ionic nature of these mixtures helps to accelerate the processes within the organism. Negligible vapor pressure minimizes the pollution they are causing. Their tailorable properties open up the opportunity to develop solvents for a variety of applications for instance as medium for chemical transformations of glucose and other saccharides into more valuable flavoring agents in food industry or for cellulose pretreatment.

Presidential Award for Young Scientist
The Presidential Award for Young Scientist is an annual prize established by the Decree of the President of Ukraine from June 12, 2000. The award is appointed by the President of Ukraine in the field of science and technology.

The prize is awarded to 40 scientific works for their outstanding contributions to the further development of humanities, natural sciences and engineering. The Award includes prize money of 40,000 Ukrainian hryvnia. Applicants should be no older than 35 years when submitting its nomination.