Nieves Lopez at Soapbox Science Berlin
Exciting short talks by female researchers - easy to understand, free of charge and open air - will be held on September 19, 2020, between 2 and 5 p.m. on Washingtonplatz at Berlin central station.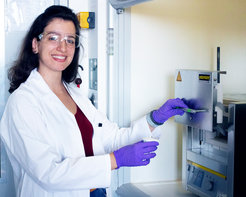 Nieves Lopez, group leader at the Max Planck Institute of Colloids and Interfaces in Potsdam, is one of the female researchers. She has a great passion for developing new carbon-based materials. In her talk entitled "Carbon: An Old New Friend", she will talk about how we can use carbon materials to mimic natural pathways such as plant photosynthesis to filter CO2 from the air and then use it to make chemicals.
Soapbox Science
Twelve international female scientists from all over the world present their research standing on soapboxes. The event format, which was launched in the UK in 2011, transforms public places into venues for collaborative learning and scientific discussion.
Soapbox Science promotes more female role models in science. It is important that our research work is heard and seen by society in order to achieve greater social participation in science and break down stereotypes about how female scientists* look or work.