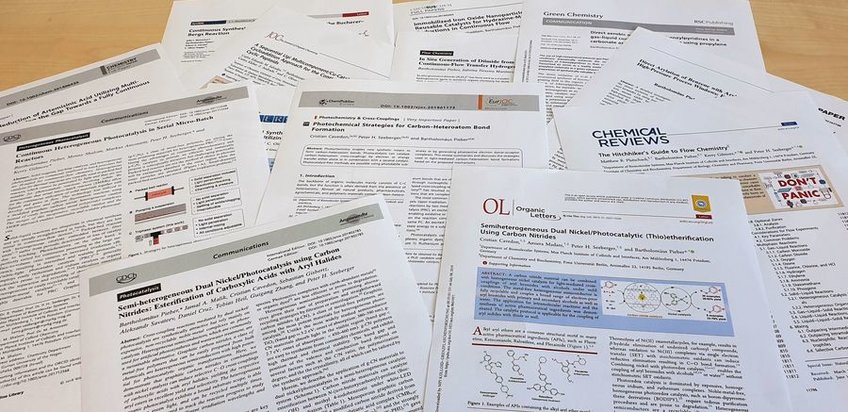 Publications of Nadezda V. Tarakina
1.
Journal Article
An all-in-one nanoprinting approach for the synthesis of a nanofilm library for unclonable anti-counterfeiting applications. Nature Nanotechnology (2023)
2.
Journal Article
+Cl-carbon nitrides for multiple photocatalytic applications. Solar RRL (2023)
Heterostructured PHI-PTI/Li
3.
Journal Article
Tuning catalytic activity of Ni–Co nanoparticles synthesized by gamma-radiolytic reduction of acetate aqueous solutions. Advanced Materials Interfaces, 2300038 (2023)
4.
Journal Article
A stunt of sustainability: artificial humic substances can generate and stabilize single Fe(0) species on mineral surfaces. ChemSusChem, e202300385 (2023)
5.
Journal Article
11
(3), pp. 1739 - 1446 (2023)
Conformal carbon nitride thin film inter-active interphase heterojunction with sustainable carbon enhancing sodium storage performance. Journal of Materials Chemistry A
6.
Journal Article
Green light photoelectrocatalysis with sulfur-doped carbon nitride: using triazole-purpald for enhanced benzylamine oxidation and oxygen evolution reactions. Advanced Science
7.
Journal Article
'Green-to-Green': Iron oxides embedded in lignin-based carbon scaffolds for water remediation via oxidation excluding free-radical pathways. Journal of Hazardous Materials
8.
Journal Article
Tuning the surface chemistry of mxene to improve energy storage: example of nitrification by salt melt. Advanced Energy Materials
9.
Journal Article
In-situ synthesis of –P=N-doped carbon nanofibers for single atom catalytic hydrosilylation. Advanced Materials
10.
Journal Article
58
(53), pp. 7419 - 7422 (2022)
Selective methane photooxidation into methanol under mild conditions promoted by highly dispersed Cu atoms on crystalline carbon nitrides. Chemical Communications
11.
Journal Article
Sustainable oxidation catalysis supported by light: Fe-poly (heptazine imide) as a heterogeneous single-atom photocatalyst. Applied Catalysis B: Environmental
12.
Journal Article
Red carbon thin film: a carbon–oxygen semiconductor with tunable properties by amine vapors and its carbonization toward carbon thin films. Advanced Materials Interfaces
13.
Journal Article
II
/Cu
I
decorated N-doped carbonaceous electrocatalysts for the oxygen reduction reaction. Journal of Materials Chemistry A
10
(11), pp. 6107 - 6114 (2022)
Cu
14.
Journal Article
2
O
3
:nC with enhanced sorption affinity to La(III), Ce(III), U(VI) ions in aqueous solution. Inorganic Chemistry Communications
138
, 109313 (2022)
Amorphous nanostructured composites Al
15.
Journal Article
2
mesocrystal formation. Angewandte Chemie International Edition
61
(6), e202112204 (2022)
Radiation chemistry provides nanoscopic insights into the role of intermediate phases in CeO
16.
Journal Article
Inorganic/organic hybrid nanoparticles synthesized in a two-step radiation-driven process. Radiation Physics and Chemistry
17.
Journal Article
Spherulitic crystal growth drives mineral deposition patterns in collagen-based materials. Advanced Functional Materials
18.
Journal Article
"Red carbon": a rediscovered covalent crystalline semiconductor. Advanced Materials
19.
Journal Article
10
(47), pp. 25220 - 25229 (2022)
Following carbon condensation by in-situ TEM: towards a rational understanding of the processes in the synthesis of nitrogen-doped carbonaceous materials. Journal of Materials Chemistry A
20.
Journal Article
2
O
2
decomposition to maximize oxygen reduction. ACS Applied Materials and Interfaces
14
(44), pp. 49820 - 49829 (2022)
Modified poly(heptazine imides): minimizing H