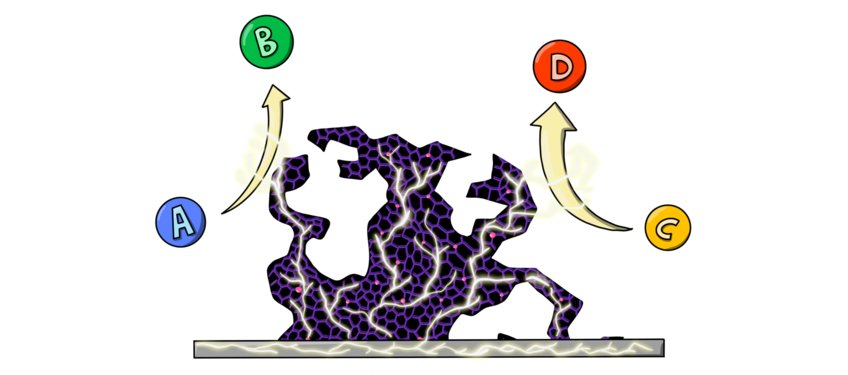 Advanced nanoporous carbon electrocatalysts
There is nothing more appealing for material scientists than constructing new materials with properties tailored for desired applications. Our group is excited about the synthesis of new nanoporous carbonaceous electrocatalysts for reactions beyond small molecule activation (water splitting, ORR, N2RR, CO2RR). By combining concepts of carbo-, single-atom and enzymatic catalysis, we aim to develop advanced electrocatalysts. However, this requires adapting their atomic, nano- and microstructure and understanding the structure-property relationship. Therefore, we are devoted to developing new synthetic tools for carbonaceous materials with a well-defined atomic arrangement of carbon matrix and heteroatoms (including single atoms) and porous structure.
What makes porous carbons unique among nanoporous materials (e.g. zeolites, MOFs, COFs, mesoporous silica) is their conductivity. The large interface and high mobility of charge carriers placed porous carbons at the centre of energy storage and conversion applications. However, the traditional synthetic approaches require high temperatures, which lead to many side reactions and, in the end, material heterogeneity. Therefore, in our work, we are particularly interested in the new synthetic concepts at lower temperatures. Lower temperatures help stabilise heteroatoms (O, N, B etc.) and metastable carbon phases, which could show different catalytic activities.
For that, we use "smart precursors", which undergo strictly defined condensation-aromatisation pathways. As such, solid-state organic chemistry replaces the brute force of carbonisation. In addition, we explore new salt melts not used in carbon synthesis as synthetic media exploiting specific catalytic activities known in organic chemistry that help form covalent carbon networks. They also provide alternative templating pathways for pore formation. The nanopores not only increase the concentration of active sites but can also assist in catalytic activity forming secondary coordination spheres in the vicinity of active sites, mimicking enzymatic sites and improving catalytic performances.