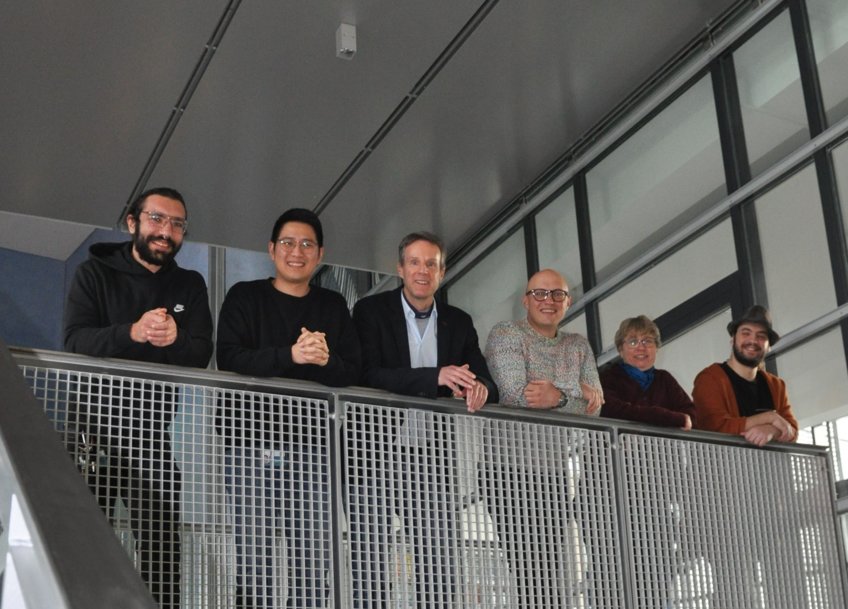 Publikationen von Ernesto Scoppola
1.
Zeitschriftenartikel
17
(2), S. 927 - 939 (2023)
Crystal–chemical and biological controls of elemental incorporation into magnetite nanocrystals. ACS Nano
2.
Zeitschriftenartikel
The complex structure of Fomes fomentarius represents an architectural design for high-performance ultralightweight materials. Science Advances
3.
Zeitschriftenartikel
Origin of the springback effect in ambient-pressure-dried silica aerogels: the effect of surface silylation. Gels
4.
Zeitschriftenartikel
35
(7), S. 2762 - 2772 (2023)
Induced mineralization of hydroxyapatite in Escherichia coli biofilms and the potential role of bacterial alkaline phosphatase. Chemistry of Materials
5.
Zeitschriftenartikel
119
(4), e2118107119 (2022)
Multiscale X-ray study of Bacillus subtilis biofilms reveals interlinked structural hierarchy and elemental heterogeneity. Proceedings of the National Academy of Sciences of the United States of America
6.
Zeitschriftenartikel
Order vs. disorder: cholesterol and omega-3 phospholipids determine biomembrane organization. International Journal of Molecular Sciences
7.
Zeitschriftenartikel
2
reduction reaction to formic acid. Nano Energy
97
, 107191 (2022)
Ni-based electrocatalysts for unconventional CO
8.
Zeitschriftenartikel
28
(27), e202200079 (2022)
Formation mechanism of a nano ring of bismuth cations and mono-lacunary Keggin-type phosphomolybdate. Chemistry – A European Journal
9.
Zeitschriftenartikel
376
(6589), S. 188 - 192 (2022)
Mineralization generates megapascal contractile stresses in collagen fibrils. Science
10.
Zeitschriftenartikel
14
(40), S. 15048 - 15059 (2022)
Characterization of lipid bilayers adsorbed to functionalized air/water interfaces. Nanoscale
11.
Zeitschriftenartikel
Primary radiation damage in bone evolves via collagen destruction by photoelectrons and secondary emission self-absorption. Nature Communications
12.
Zeitschriftenartikel
Gradients of orientation, composition and hydration of proteins for efficient light collection by the cornea of the horseshoe crab. Advanced Science
13.
Zeitschriftenartikel
Cellulose lattice strains and stress transfer in native and delignified wood. Carbohydrate Polymers
14.
Zeitschriftenartikel
Springback effect and structural features during the drying of silica aerogels tracked by in-situ synchrotron X-ray scattering. Scientific Reports
15.
Zeitschriftenartikel
22
(12), S. 5195 - 5203 (2021)
Investigating the conformation of surface-adsorbed proteins with standing-wave X-ray fluorescence. Biomacromolecules
16.
Zeitschriftenartikel
118
(48), e2111213118 (2021)
Seeds of imperfection rule the mesocrystalline disorder in natural anhydrite single crystals. Proceedings of the National Academy of Sciences of the United States of America
17.
Zeitschriftenartikel
Neutron reflectometry study of the interface between two immiscible electrolyte solutions: effects of electrolyte concentration, applied electric field, and lipid adsorption. Electrochimica Acta
18.
Zeitschriftenartikel
16
(46), S. 10425 - 10438 (2020)
Not just a fluidifying effect: omega-3 phospholipids induce formation of non-lamellar structures in biomembranes. Soft Matter
19.
Zeitschriftenartikel
123
(50), S. 10877 - 10889 (2019)
β-lactoglobulin adsorption layers at the water/air surface: 3. Neutron reflectometry study on the effect of pH. The Journal of Physical Chemistry B
20.
Zeitschriftenartikel
The role of temperature and lipid charge on intake/uptake of cationic gold nanoparticles into lipid bilayers. Small