International Recognition for Chemistry Professor
Peter Seerberger is awarded the Roy L. Whistler Award 2012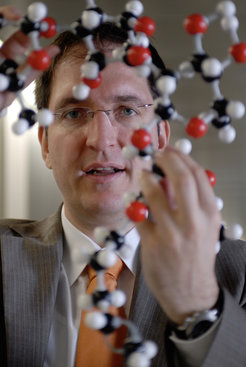 The Roy L. Whistler Award in Carbohydrate Chemistry 2012 is awarded to Peter Seeberger, disclosed the International Carbohydrate Organization. Peter Seeberger is a professor at the Institute of Chemistry and Biochemistry at Freie Universität Berlin, and is also the Director at the Max Planck Institute of Colloids and Interfaces in Potsdam-Golm. The award includes price money of 10,000 U.S. dollars.

Peter Seeberger is one of the world's leading scientists in Glycomics, the study of carbohydrates that chemists also identify as sugar. Working alongside chemists, biochemists and immunologists, has allowed Seeberger to achieve biological insights on the synthetic advances of sugar and furthermore, develop automated synthesis of complex sugars in order to investigate synthesized compounds.

Seeberger has published over 250 papers, 2 edited books and 24 book chapters. He has received many honors, among those being the Claude S. Hudson Award in Carbohydrate Chemistry, the Körber European Science Award and the Inhoffen medal of the Helmholtz Centre for Infection Research.