If the chemistry is just right
German-Indian research cooperation for a better understanding, prevention and diagnosis of infectious diseases
150 leading Indian and German scientists met on 20th and 21st of January in the Indian National Institute of Immunology in New Delhi to discuss promising results and future topics of basic research which could lead to new applications.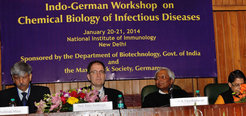 Malaria, leishmaniasis, tuberculosis, typhoid, and other infectious diseases threaten the health and lives of a major portion of mankind. However, these diseases are considered neglectable and exotic to the 1,2 billion (of the approximately 7 billion people) who live in the industrialized world. Vaccines, rapid tests, and new pharmaceuticals against these essential diseases, which they are from a global perspective, require a fundamental understanding of their pathogens.
Among those promising topics resulting from the rapid advance in glycobiology are conjugate vaccines, composed of synthetically produced carbohydrates and proteins known to trigger an immune response. Currently, these new vaccine candidates can probably be used against "neglected diseases" like leishmaniasis and dengue. Other vaccine candidates could tackle strands of pathogens which are immune against currently widely used vaccines. An example is a strand of Streptococcus pneumonia, which is the cause of most childhood fatalities in Pakistan.
Also recent developments in diagnostics based on immunological approaches, like advances in the use of Bacterial Artificial Chromosomes (BAC) for cloning, live cell imaging, new possibilities regarding HIV, fungal diseases and new rapid diagnostics were discussed.
The workshop on the "Chemical Biology of Infectious Diseases" meant a chance for interdisciplinary collaboration not only for established scientists but also for young researchers.
Scientific breakthroughs leading to innovation in the treatment of infectious diseases can only be achieved through close cooperation between highly specialized disciplines. Chemists, infection biologists, immunologists, medical doctors and clinicians discussed results and possible new methods for collaboration.
The importance allocated to this workshop from both sides was visible by its participants. The workshop was inaugurated by Prof. Vijay Raghavan, Secretary, Department of Biotechnology, Government of India who emphasized basic research should have in mind future collaboration with Indian medical clinicians to deliver tangible benefits. Dr. Chandrima Shaha, Director, NII and Prof. Peter Seeberger, Director of the Max Planck Institute of Colloids and Interfaces stressed collaboration between Indian and German scientists is particularly rewarding when it comes to the research of infectious diseases. Dr. Claudia Hillinger, Max Planck Society, and Dr. Arabinda Mitra, Department of Science and Technology (DST), Government of India and Mr. Philip Petit, Science Counsellor, Embassy of Germany reported how German-Indian science collaboration is already a success story. In 2011, more than 640 Indian scientists did research in Max Planck Institutes and every 9th foreign PhD candidate in a Max Planck Institute is of Indian nationality. This collaboration will now be extended specifically to the chemistry of infectious diseases.
As a result of the workshop there will be several cooperation projects. New inexpensive rapid tests developed in Germany will be tested in the near future in endemic regions of India. Also, Indian and German scientists will collaboratively research new vaccines composed of independently developed components. The researchers hope the combination will improve the efficacy of the vaccine. Finally, the participants decided to intensify the cooperation in scientific training.
Particularly, researchers feeling comfortable in both scientific communities help bring the German Indian collaboration to life. A good example is the biochemist Dr. Chakkumkal Anish, who came from the National Institute of Immunology in New Delhi to the Max Planck Institute of Colloids and Interfaces (MPICI) in Potsdam, where he is a research group leader now. He developed a rapid test for plague, a model for other inexpensive, efficient, and reliable diagnostics to come. Chakkumkal Anish states: "During the last 5 years the number of Indian PhD students and Postdocs increased 80%. I am a perfect example and the best German Indian research collaboration is yet to come."
He is probably right. There are other success-stories from MPICI in Potsdam. In November 2013 the Indian scientist Dr. Claney Pereira became co-founder and CSO of a Max Planck biotech spin off called "GylcoUniverse" – producing a worldwide unique robotic carbohydrate synthesizer and the "building block" chemicals it needs. German Indian chemistry seems to be just right.