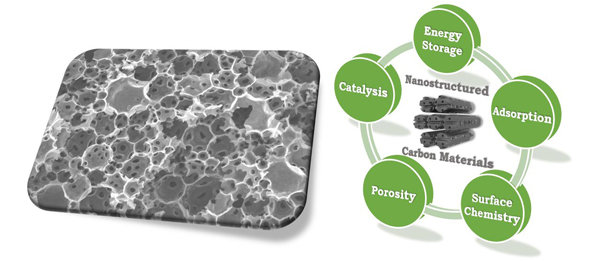 Energy and Environmental Utilization of Carbon Nanomaterials
The main area of research in our group is the development of nanostructured carbon materials with tailored properties for energy and environmental applications. Especially nanoporous materials with high internal porosity are of interest because they combine large available surface area of several 1000 m2/g with high chemical/thermal stability and electrical conductivity. Suchlike structures are key components in future energy storage applications, gas purification, and as support materials for metal nanoparticles in heterogeneous catalysis and can thus contribute to a sustainable development of our societies` energy balance.
We use advanced templating approaches on the nanoscale to tailor the pore size, pore geometry, and pore connectivity of these materials with high precision. Furthermore, heteroatom doping is used to modify the electronic properties and surface chemistry of the carbon framework. The performance of the designed carbon materials in gas adsorption, electrochemical energy storage (batteries and supercapacitors), and heterogeneous catalysis are linked to their textural and electronic properties. In this way, a better understanding of the structure-performance relationships can be achieved for the respective applications.