Max Planck Director honored with Emil Fischer Medal
One of the highest distinctions in Organic Chemistry
This year, the German Chemical Society (GDCh) has awarded Max Planck Director Peter H. Seeberger the Emil Fischer Medal, worth 7,500 euros. He receives the award for his pioneering contributions to the synthesis of complex carbohydrates, in particular through the development of automated methods.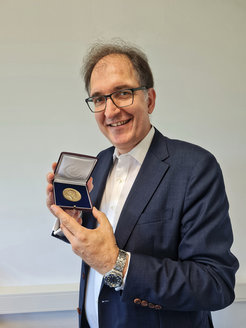 As an outstanding basic researcher in organic chemistry, Peter Seeberger is one of the pioneers of flow chemistry and is distinguished by his outstanding work in the field of carbohydrate chemistry. The core interest of his research focuses on the production of complex sugars. With his syntheses, Seeberger founded the field of "molecular glycobiology," from which novel sugar-based vaccine candidates have emerged in addition to cholesterol-lowering agents and diagnostics for bacterial and parasitic infections. "I am truly honored to receive this recognition since Emil Fischer was the founder of my main field of research, the carbohydrate chemistry," says Peter Seeberger, adding, "He is a great role model to me."
About the award
Since 1950, the German Chemical Society (GDCh) has awarded the Emil Fischer Medal for outstanding achievements in the field of organic chemistry, now for the 35th time. In 1912, Carl Duisberg donated this award to chemist Emil Fischer on his 60th birthday. Today, the GDCh finances the award from a special fund. Emil Fischer received the Nobel Prize in Chemistry in 1902 for his work on sugar and purines.