Max Planck Director elected as AAAS Fellow
International distinction
 
Potsdam and Washington, D.C. — The American Association for the Advancement of Science (AAAS), the world's largest general scientific society and publisher of the Science family of journals, has elected Prof. Peter H. Seeberger from Max Planck Institute of Colloids and Interfaces to the newest class of AAAS Fellows, among the most distinct honors within the scientific community.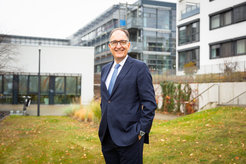 The 2021 class of AAAS Fellows includes 564 scientists, engineers, and innovators spanning 24 scientific disciplines who are being recognized for their scientifically and socially distinguished achievements. Peter Seeberger is being honored for developing automated carbohydrate synthesis and using synthetic carbohydrates to explore the role of glycans in biological processes and to develop vaccines and diagnostics for bacterial pathogens. "It is a great honor to be elected to the rank of inventors and scientists that included Thomas Edison, for example, and that represents the entire breadth of all disciplines. Especially for a non-American, this is a special award that surprised me a lot", says Peter Seeberger.
After six years as Professor at the Swiss Federal Institute of Technology (ETH) Zurich he assumed positions as Director at the Max Planck Institute of Colloids and Interfaces in Potsdam and Professor at the Free University of Berlin in 2009. In addition he serves as honorary Professor at the University of Potsdam.
Professor Seeberger's research on the chemistry and biology of carbohydrates, carbohydrate vaccine development and continuous flow synthesis of drug substances spans a broad range of topics from engineering to immunology and has been documented in over 550 peer-reviewed journal articles, four books, more than 50 patents, over 200 published abstracts and more than 850 invited lectures. This work was recognized with more than 35 international awards from the US (e.g. Arthur C. Cope Young Scholar Award, Horace B. Isbell Award, Claude S. Hudson Award from the American Chemical Society), Germany (e.g. 2017 Stifterverband Science Prize, Körber Prize for European Sciences), Holland (Havinga Medal), Israel (Honorary Lifetime Member Israel Chemical Society), Japan (Yoshimasa Hirata Gold Medal), Switzerland ("The 100 Most Important Swiss") and international organizations (Whistler Award 2012, Int. Carboh. Soc.). In 2013 he was elected to the Berlin-Brandenburg Academy of Sciences.
About AAAS
The American Association for the Advancement of Science (AAAS) is the world's largest general scientific society and publisher of the journal Science, as well as Science Translational Medicine; Science Signaling; a digital, open-access journal, Science Advances; Science Immunology; and Science Robotics. AAAS was founded in 1848 and includes more than 250 affiliated societies and academies of science, serving 10 million individuals. For additional information about AAAS, visit www.aaas.org/fellows .