839,000 euros to overcome the limits of photocatalysis
Funding from Boehringer Ingelheim Foundation
Dr. Bartholomäus Pieber, group leader at the Max Planck Institute of Colloids and Interfaces, is receiving a grant of around 839,000 euros for research into novel ways of using light to synthesize important chemicals. In the photocatalysis project, the chemists led by Dr. Pieber want to mimic nature's mechanism for converting light into chemically usable energy. The Boehringer Ingelheim Foundation is supporting Dr. Pieber's project for three years as part of its "Plus 3" perspectives program.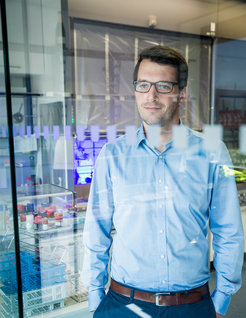 Currently, there are only a very small number of compounds that harness visible light for chemical synthesis. These photocatalysts are usually expensive noble metal complexes whose long-lived excited states are crucial for their use as photocatalysts, since chemical reactions in solution are limited by the rate of diffusion. This bottleneck of catalysts severely limits the potential of photocatalysis. In contrast, nature is able to use organic dyes with short lifetimes as photocatalysts. This is possible because these reactions occur in spatially controlled processes. Dr. Bartholomäus Pieber's research group is pursuing a promising approach to replace precious metal complexes with standard, sustainable organic dyes as photocatalysts by mimicking nature's concept. "We recently discovered that short-lived excited states can be harnessed by bringing a dye close to a target molecule," says Pieber, a group leader in Professor Peter H. Seeberger's Department of Biomolecular Systems. He adds, "This groundbreaking research will open up new territory in synthetic photocatalysis and new possibilities for controlling the selectivity of chemical reactions." A key aspect of the proposal is the development of a novel technology: using self-assembling nanoreactors to create a confined catalytic environment that triggers reactivity between short-lived excited-state dyes and a desired molecule.
About the Program
With its "Plus 3" funding programme, the Boehringer Ingelheim Foundation aims to support
outstanding scientists in Germany doing basic research in biology, chemistry, and medicine. The program is intended to afford junior group leaders the time, freedom and flexibility to reach their scientific potential and advance and further develop their research program. It thus enables them to optimally use the productive phase of their first temporary position as research group leaders as a springboard toward obtaining a professorship in an excellent environment.
Around 80 percent of the group leaders whose "Plus 3" funding began between 2010 and 2018 now hold a professorship. More than 40 percent of all grantees come from abroad.