ERC Starting Grant goes to Max Planck chemist
Prestigious EU research funding
Dr. Martina Delbianco, group leader at the Max Planck Institute of Colloids and Interfaces, was selected to receive a grant of 1.5 million euros from the European Research Council (ERC). Over a period of five years, the EU will fund the development of programmable carbohydrate architectures, which in the long term may result in the creation of new materials from sugar.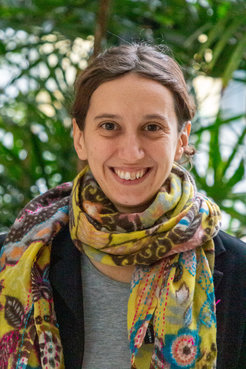 Natural biopolymers have inspired the development of synthetic analogues capable of adopting defined conformations and forming programmable three-dimensional architectures. These synthetic structures, called foldamers, are mainly based on amino acids and nucleotides, the units that make up proteins and DNA and RNA. Carbohydrates, the most abundant structural organic materials on Earth, have an enormous potential for the generation of programmable architectures. Nevertheless, no examples of synthetic carbohydrate foldamers have been reported. GLYCOFOLD will address fundamental questions related to carbohydrate structure with the ultimate goal of developing programmable carbohydrate foldamers and architectures.
• Which factors stabilize glycan conformations in nature?
• Can we tune these conformations by chemical modifications?
• Can we mimic nature to build carbohydrate architectures based on simpler oligomers?
Dr. Delbianco's research group, funded by the European Research Council (ERC), will pursue these questions over the next five years. "I am very happy the council shared my excitement for this project. Carbohydrate foldamers could open up opportunities in various fields, such as materials science, biology or catalysis, and I am excited to see where the project takes us," says Dr. Martina Delbianco.
Martina Delbianco received her PhD from Durham University (UK) in 2015, was then a postdoctoral researcher at the Max Planck Institute of Colloids and Interfaces, and has been leading the research group "Carbohydrate Materials" in the department of Prof. Dr. Peter H. Seeberger since 2018.
ERC Starting Grant
In 2007, the European Research Council (ERC) was established by the European Union as the premier European institution for research funding. Each year, the world's best and most creative researchers of all ages are awarded grants to carry out their projects in Europe after intensive applications. There are different grants, which vary in amount and duration of funding. Starting Grants are aimed at young early career academics.