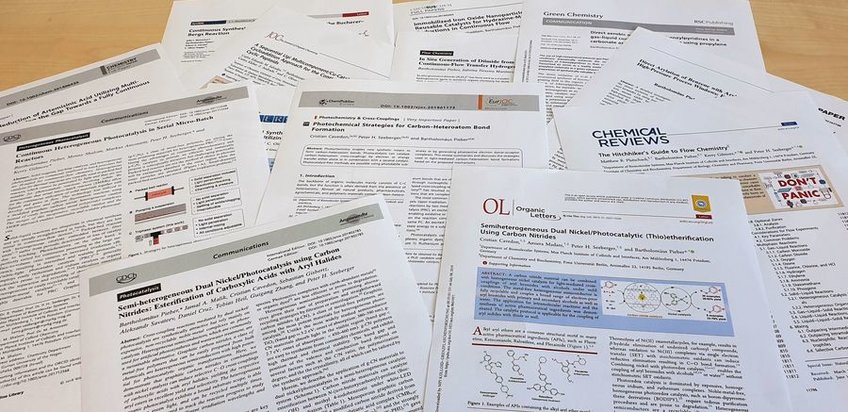 Publications of Volker Strauß
1.
Journal Article
- and 4e- pathway in the oxygen reduction reaction with laser-synthesized iron oxide-grafted nitrogen-doped carbon. Journal of Materials Chemistry A (2022)
Modulating between 2e
2.
Journal Article
Trained laser-patterned carbon as high-performance mechanical sensors. npj flexible electronics
3.
Journal Article
On-chip direct laser writing of PAN-based carbon supercapacitor electrodes. Macromolecular Rapid Communications
4.
Journal Article
13
(2), pp. 801 - 809 (2021)
On the photophysics of nanographene – investigation of functionalized hexa-peri-hexabenzocoronenes as model systems. Nanoscale
5.
Journal Article
143
(48), pp. 20122 - 20132 (2021)
Carbon nanodots for all-in-one photocatalytic hydrogen generation. Journal of the American Chemical Society
6.
Journal Article
2
with water as the donor of electrons and protons. Applied Catalysis B: Environmental
285
, 119773 (2021)
All-organic Z-scheme photoreduction of CO
7.
Journal Article
A supraparticle-based five-level-identification tag that switches information upon readout. Advanced Optical Materials
8.
Journal Article
Graphene's role in emerging trends of capacitive energy storage. Small
9.
Journal Article
176
, pp. 500 - 510 (2021)
Laser-carbonization: peering into the formation of micro-thermally produced (N-doped)carbons. Carbon
10.
Journal Article
In situ synthesis of molybdenum carbide nanoparticles incorporated into laser-patterned nitrogen-doped carbon for room temperature VOC sensing. Advanced Functional Materials
11.
Journal Article
Laser-driven growth of structurally defined transition metal oxide nanocrystals on carbon nitride photoelectrodes in milliseconds. Nature Communications
12.
Journal Article
Laser-induced carbonization of natural organic precursors for flexible electronics. Advanced Electronic Materials
13.
Journal Article
2
(12), pp. 4146 - 4154 (2020)
Using carbon laser patterning to produce flexible, metal-free humidity sensors. ACS Applied Electronic Materials
14.
Journal Article
10
, pp. 13269 - 13274 (2020)
Modular, self-assembling metallaphotocatalyst for cross-couplings using the full visible-light spectrum. ACS Catalysis
15.
Journal Article
59
(35), pp. 15061 - 15068 (2020)
Potassium poly(heptazine imide): transition metal-free solid state triplet sensitizer in cascade energy transfer and [3+2]-cycloadditions. Angewandte Chemie International Edition
16.
Journal Article
11
(31), pp. 8256 - 8266 (2020)
Carbon nanodots revised: the thermal citric acid/urea reaction. Chemical Science
17.
Journal Article
Laser-assisted lattice recovery of graphene by carbon nanodot incorporation. Small
18.
Journal Article
52
(4), pp. 955 - 963 (2019)
Carbon nanodots of charge-transfer processes. Accounts of Chemical Research
19.
Journal Article
Fast Response Electrochemical Capacitor Electrodes Created by Laser-Reduction of Carbon Nanodots. Materials Today Energy
20.
Journal Article
11
(26), pp. 12712 - 12719 (2019)
Patching laser-reduced graphene oxide with carbon nanodots. Nanoscale