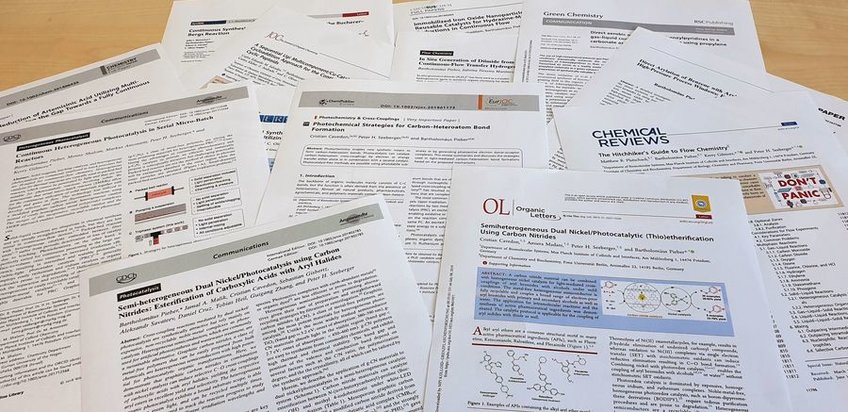 Publications of Junfang Zhang
1.
Journal Article
Multi-channel lanthanide nanocomposites for customized synergistic treatment of orthotopic multi-tumor cases. Angewandte Chemie International Edition, e202303570 (2023)
2.
Journal Article
Solid ink laser patterning for high-resolution information labels with supervised learning readout. Advanced Functional Materials, 2210116 (2023)
3.
Journal Article
Nanolayer laser absorber for femtoliter chemistry in polymer reactors. Advanced Materials
4.
Journal Article
Alkanes as intelligent surface thermometers: a facile approach to characterize short-lived temperature gradients on the micrometer scale. Advanced Materials Interfaces
5.
Journal Article
Laser-driven growth of structurally defined transition metal oxide nanocrystals on carbon nitride photoelectrodes in milliseconds. Nature Communications
6.
Journal Article
Laser-induced forward transfer of soft material nanolayers with millisecond pulses shows contact-based material deposition. Applied Surface Science
7.
Journal Article
26
(6), pp. 1243 - 1248 (2020)
Ultrasonic-assisted synthesis of highly defined silver nanodimers by self-assembly for improved surface-enhanced Raman spectroscopy. Chemistry – A European Journal
8.
Journal Article
A low-cost laser-based nano-3D polymer printer for rapid surface patterning and chemical synthesis of peptide and glycan microarrays. Advanced Materials Technologies
9.
Journal Article
11
(16), pp. 14597 - 14607 (2019)
Designing an amino-fullerene derivative C70–(EDA)8 to fight superbacteria. ACS Applied Materials and Interfaces
10.
Thesis - PhD
Metallic nanoparticle-assisted laser-driven transfer for organic transformations. Dissertation, Freie Universität, Berlin (2022)