Book catalogues and Loan
 
Loan: Please fill in a loan form for each book you want to take out to your office. You will find the paperforms in a box at the desk in the ground floor. Leave the form (both sheets) in the "loan" box. Enjoy the book(s).

Return: Please leave the book(s) at the return trolley or at a desk in the library. We will place them back to the shelve.
Can I take a library book to my office?
You are welcome to take library books to your office, as long as they haven't been marked with a red band. Books with red bands are reference material and may not be taken out of the library.
Please don't take books out of the institute.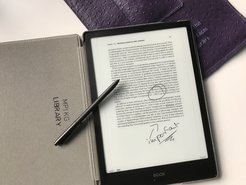 Borrow BOOX like a book. The e-ink display is especially eye friendly.
Read PDF (e.g. from MPG.ebooks) offline, save your own remarks directly while reading and copy them later to your PC.
Ask your librarian.