Helmuth Möhwald is elected member of the Academia Europaea
All, newly elected members of the Academy will participate in the induction ceremony at the 24th Annual Conference on September 11th in Bergen. Helmuth Möhwald is Director of the department of Interfaces at the Max Planck Institute of Colloids and Interfaces in Potsdam-Golm.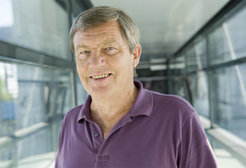 The Academia Europaea is a European, non-governmental associat ion acting as an Academy. The Academy was founded in 1988, and has over 2000 members from thirty f ive European countries and eight non-European countries. The membership includes leading experts from the physical sciences and technology, biological sciences and medicine, mathematics, the letters and humanities, social and cognitive sciences, economics and the law. Among them are numerous Nobel Laureates such as Gerhard Ertl or Theodor Hänsch. Selection criteria are a dominant position within a scientific discipline, outstanding scientific achievements and high interdisciplinarity.

Since 1993 Helmuth Möhwald is Director and Scientific Member at the Max Planck Institute of Colloids and Interfaces in the Potsdam-Golm Science Park. He holds Honorary Professorships at the University Potsdam, at Zheijang University in Hangzhou, at Fudan University in Shanghai, at the Harbin Institute of Technology, at the Soochow University and the Chinese Academy of Sciences.

Among his numerous awards are the Physics award of the German Physical Society (1978), the Liesegang award (1998), the membership in the Austrain Academy of Sciences (2004), the Overbeak medal of the European Colloid and Interface Society (2007), the Gay-Lussac-Award from the French Ministry of Science and Technology (2007), a honorary doctorate of the University of Montpellier (2008) and the Wolfgang-Ostwald award of the German Colloid Society (2009).