Peter Fratzl elected Fellow of the Materials Research Society
The biophysicist Peter Fratzl has been elected Fellow of the Materials Research Society (MRS). Overall twenty-eight scientists are honored in 2012 for distinguished research accomplishments and contributions to the advancement of materials research worldwide. The distinctions will be awarded at the 2012 MRS Spring Meeting in San Francisco on April 11.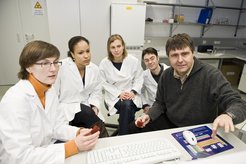 Peter Fratzl is acknowledged for his pioneering and exceptional contributions in biomaterials, biomimetics, osteoporosis research and composite materials and his dedicated commitment to the materials science community. He has written more than 300 Publications in scientific journals and books and held numerous invited lectures. Research in his group covers many aspects of biological materials science, including structure function relations in natural materials, such as plants or extracellular tissue, as well as clinically oriented bone research. He received numerous awards including the Gottfried Wilhelm Leibniz price or the Max Planck Research Award.
About the Materials Research Society
The Materials Research Society MRS is an international organization of almost 16,000 materials researchers from academia, industry and government, and a recognized leader in promoting the advancement of interdisciplinary materials research to improve the quality of life. MRS members are engaged and enthusiastic professionals hailing from phy-sics, chemistry, biology, mathematics and engineering—the full spectrum of materials research. Headquartered in Warrendale, Pennsylvania (USA), MRS membership now spans over 80 countries, w ith more than 40% of members residing outside the United States. In addition to its communications and publications portfolio, MRS organizes high-quality scientific meetings, attracting over 13,000 attendees annually and facilitating interactions among a w ide range of experts from the cutting edge of the global materials community. MRS is also a recognized leader in education outreach and advocacy for scientific research.