Sugar communication: Christoph Rademacher receives ERC Starting Grant
The European Research Council has awarded Christoph Rademacher, research group leader at the Max Planck Institute of Colloids and Interfaces, Potsdam, with a prestigious ERC Starting Grant. Over the next five years, this research budget of 1.5 Mio EUR will allow Rademacher to unravel how cells utilize sugars to communicate with one another.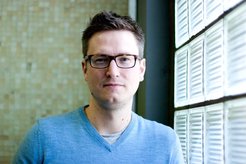 Sugar - Master of information
The ERC Starting Grant allows the Rademacher lab to expand its research into basic glycobiology now: Every living cell is covered with a dense matrix of carbohydrates. This coat of sugars is the first to be encountered when cells contact each other. Presenting a diversity of such carbohydrates on the surface enables the cell to encode information - a common principle of all multicellular organisms. However, it is largely unknown how such communication system ensures that the transmitting cell can encode and a receiving cell decode information in the presence of noise. This noise can arise from fluctuations of the composition of the matrix of sugars.
Christoph Rademacher
Since 2011 Christoph Rademacher has been a research group leader in the Department of Biomolecular Systems at the Max Planck Institute of Colloids and Interfaces in Potsdam. His Structural Glycobiology Group develops targeted delivery devices for the application in cancer immunotherapy. With the help of specific small molecules that bind to immune cells receptors and the uptake of defined nanoparticles will be promoted. In the future, these particles will reactivate the immune cells against cancer.
ERC Starting Grants
ERC Starting Grants are awarded to researchers of any nationality with two to seven years of experience since completion of the PhD (or equivalent degree) and a scientific track record showing great promise. The research must be conducted in a public or private research organisation located in one of the EU Member States or Associated Countries. The funding (maximum €1.5 million per grant) is provided over up to five years. Two thirds of the ERC budget is earmarked for the early-career researchers – the Starting Grant and Consolidator Grant schemes - and calls for proposals are published once a year for each scheme.