Bark - A material with a future
A team that is researching new concepts for biomaterials at the Max Planck Institute of Colloids and Interfaces in Potsdam won second prize of the Die Junge Akademie's 2020 ideas competition in the category "Visions"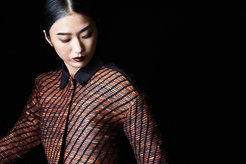 Bark - a waste product with potential
Bark is a waste product of the traditional wood industry, but also a local raw material with potential in the field of sustainable material innovation. The use of bark conserves resources in many ways. As a by-product of the wood industry it is either processed into briquettes or burned as a waste product, causing unnecessary CO2 emissions. As part of Charlett Wenig's doctoral thesis, "The Bark Project" therefore investigated this raw material, which has so far received too little attention, based on material-focused analyses. Besides scientific methods, design methods were also used. "In addition to the interplay between practical design and basic scientific research, we are particularly interested in the development of sustainable design concepts using bark as a starting material," explains Charlett Wenig. Together with Johanna Hehemeyer-Cürten, she has discovered that bark, as a waste product of the wood industry, is still largely unused. The possibilities for resource-saving further processing are astonishingly broad: They range from processing into glazes to textile fibers.
Sustainable textiles with an aesthetic vision
"The Bark Project" convinced the jury because it combines basic scientific research on the material and chemical composition of tree bark with a strong aesthetic vision of sustainable textiles. The research into the material and chemical characteristics of bark and the resulting development of new concepts for biomaterials that are relevant to future design scenarios is possible by research at the Max Planck Institute of Colloids and Interfaces (MPIKG).
The winners of Die Junge Akademie's 2020 ideas competition have been selected
Honouring visionary ideas for a sustainable future

The winners of the Visions/Solutions ideas competition have been selected. As part of its online competition, the Sustainability Research Group at Die Junge Akademie accepted entries that engaged with visionary ideas or concrete approaches to a sustainable future. Participants had until 15 May 2020 to submit entries in the categories of Visions or Solutions in a broad range of digital formats – from images and videos to texts and songs to multimedia content. Prizes in the amount of 2,000, 1,500 and 1,000 euros were awarded to the three best entries in each category.

Detailed information on all of the prize winners and their ideas can be found at https://2020.diejungeakademie.de/en/.