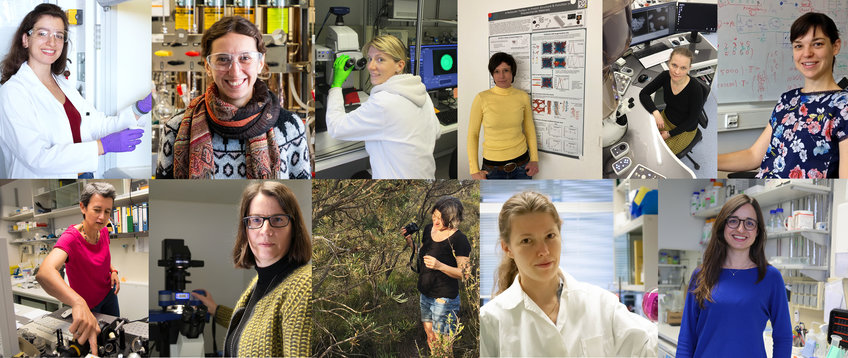 100 years of Women's Day
Women's Day has been held annually since 1921 and thus celebrates its 100th anniversary this year. In 1975, the United Nations first called for 'International Women's Day' and set March 8 as the fixed date. This year's theme is "Women in leadership: Achieving an equal future in a COVID-19 world." To mark this anniversary and in keeping with the theme, the Max Planck Institute of Colloids and Interfaces presents its 11 international female research group leaders. "We are proud of our excellent female scientists and their outstanding research. But there is still a lot of work ahead of us until we have achieved gender equity," says Prof. Dr. Peter Fratzl, Managing Director of the institute and Director of the Department of Biomaterials.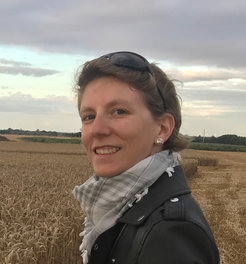 My research: Biofilm-based Materials - Bacteria build biofilms to protect themselves from challenges like antibiotics, starvation or desiccation. Biofilms can be as sticky as the slime in your sink or as hard as the calculus on your teeth. We study biofilm formation in various environments to learn how to make biofilm-based materials and tune their properties.
What keeps me going: When I got a microscope for Christmas at the age of 12, I was far from imagining that I would play with such toys for so long. Today, I realize that studying engineering and pursuing research on living materials may have been the best way to remain the kid who played with Legos and spied on woodlice in the garden.
---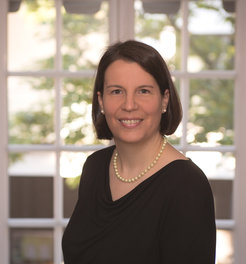 Kerstin Blank (Max Planck Research Group)
My research: Mechano(bio)chemistry - I aim to understand how biological systems communicate with each other, using mechanical signals. I investigate how molecules respond to forces, how these molecules build mechanically stable structures and how cells interact with such structures. Towards this goal, I am developing and using a range of methods for measuring very tiny forces within molecules, materials and tissues.
What keeps me going: I am currently involved in organizing a number of (on-line) seminars and conferences. I have set myself the goal to use this as an opportunity to show the steadily growing number of established and junior female researchers in my field, which for a long time was very much dominated by men. It is important that female researchers support each other in gaining visibility and getting the chance to present their excellent work.
---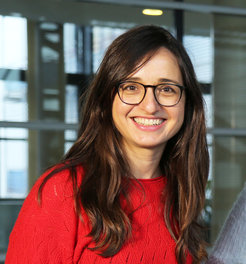 Amaia Cipitria (Emmy Noether Junior Research Group)
My research: Extracellular Matrix in Disease and Regeneration -I am interested in clinically-inspired basic and translational research at the intersection between bioengineering and biomedicine. Our lab aims to understand the role of the biophysical and biochemical microenvironment, in particular the physico-chemical properties of tissues, extracellular matrix and collective of cells, in controlling tissue regeneration, breast cancer dormancy and bone metastasis.
What keeps me going: When not working for research, I am a proficient home-schooling teacher. As a mother of 6 and 8 year old children, there is little 'balance' in my life. Rather switching between two non-equilibrium states and having fun in the process! I am also a gender equality officer at our institute. This role has been eye-opening about how much work there is still to be done regarding (un)conscious gender bias and inequality, from high-level education down to schools and kindergarten. I recharge energy traveling with my family to nature in our van, being by the sea (or a lake), skating with my daughter, taking photographs and listening to argentine tango, while hoping I can bring my husband to the dancefloor again.
---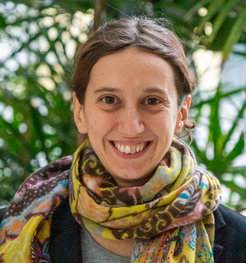 My research: Carbohydrate Materials - In my group, we study polysaccharides to understand their structures and properties with the goal of developing novel tunable biomaterials.
What keeps me going: It is great to see that more and more women are successfully pursuing a career in science, as demonstrated by the 2020 Nobel Prize in chemistry. These achievements will inspire the new generations. When I'm not in the lab, I go swimming, I love to cook, and I'm interested in photography.
---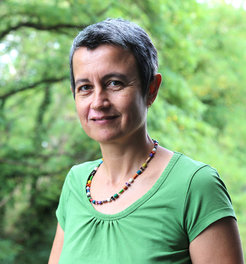 My research: Biophysics Lab - Our lab develops methods for characterizing cell membranes and processes involving them. For this, we construct minimal systems of the plasma membrane (imagine empty cells like bubbles), which we then investigate directly under the microscope, scrutinizing and poking them.
What keeps me going: I try to motivate and cultivate junior scientists from all backgrounds, because great science requires great scientists, and gender, cultural and societal differences should not stand on their way. A message to the girls: balancing family and work can be challenging, especially during a pandemic, but it is the challenges that make us grow.
---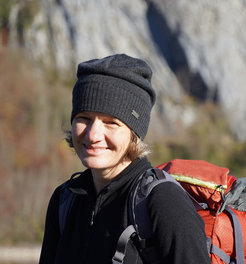 My research: Adaptive Fibrous Materials - One of my main reasearch interests are the properties of plant materials (e.g. wood, seed pods) and how they relate to their natural environment. To address this, we sample directly in the field before we study them in our laboratories. The gained knowledge helps to understand functions of plant materials for the living plant but it is also beneficial for sustainable material development and use.
What keeps me going: My partner John and I share our passion for science, our children and outdoor activities. The equal partnership helps to balance between work and family and our children seem to grow up happily. Even though we appreciate the progress that has been made in the past for equal opportunities, we think that more work needs to be done to address current lack of real dual career possibilities.
---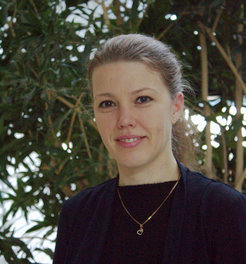 My research: Sustainable Solvents for Green Processes - In my research, I am oriented on the development of sustainable solutions to increase the value of the naturally derived substances and materials. Biopolymers play especially large role in my research, as they are a prolific and sustainable source of the biodegradable and biocompatible advanced materials.
What keeps me going: In my personal life, I like to balance personal development with physical activities. My biggest passion is to study and to learn something new, meet new people and see new countries. I do biking and hiking, this gives me time for myself to recover and enjoy nature. I am also a big fan of gardening with a passion to surround myself with plants.
---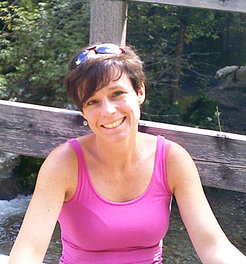 My research: Multiscale Modelling - The focus of my research lies on multiscale simulations of biological and biomimetic molecules. Currently, we are particularly interested in the development of reliable computer models for biological carbohydrates. The diverse and complex functions of these molecules for cell biology are only just beginning to emerge and open up a multitude of questions related to their molecular interactions and structure-function relationships.
What keeps me going: Uniting research and family – I have two kids – is a daily adventure that can be challenging and exhausting (especially these days) but luckily never boring! For a break from it all, Saturday mornings are reserved for playing soccer.
---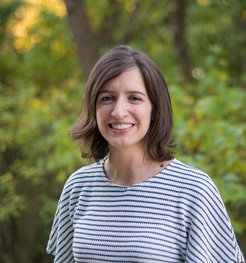 My research: Old Chemistry for New Advanced Materials - The aim of my group research is to try to solve some of the problems of our society that is demanding more and more energy every day! In this context, carbons are very versatile. We work on understanding and controlling carbonization processes to prepare carbon based materials with known and predictable composition and chemistry. Our final goal is to be able to design carbon materials in a controlled fashion for applications ranging from gas adsorption to energy storage and conversion.
What keeps me going: I am an enthusiastic researcher but I believe outreach is very important so people can get to know what we do in our day a day life! That is why I participate in as many outreach events as I can. For example, last year I joined the Soapbox Science event in Berlin and I was talking about our science to people that was stoping by in front of Berlin Cenral Station. That was a very fun experience! I am also a fan of photography and in my free time I love to travel with my friends and my camera around the world learning about different cultures and taking photos!
---
My research: Biomolecular Processes - My group studies the synthesis of proteins by molecular machines called ribosomes. We develop mathematical models and computer simulations to investigate how the speed and fidelity of protein synthesis are determined in different natural and artificial environments.
What keeps me going: I spend as much time as possible with my twins, husband, and friends - preferably outdoors on a bike, close to a lake and with an ice cream once in a while. My family and I recently moved to Hanover, where I will soon teach and do research as professor for Computational Biology at the Leibniz University.
---
My research: Electron Microscopy - In my research I use a very small focused beam of electrons to form images at very high resolutions and magnifications, so high that I can clearly see atomic arrangements in different materials and even follow processes happening with materials at the nanoscale under different stimuli. Understanding materials at the nanoscale helps to understand their properties and steer the development of new sustainable technologies.
What keeps me going: I really like my work, and I think that young female scientists should seriously consider an academic career. I have three daughters and know that balancing work and family is sometimes not an easy task at all, but if you are passionate about what you are doing you should follow your passion!