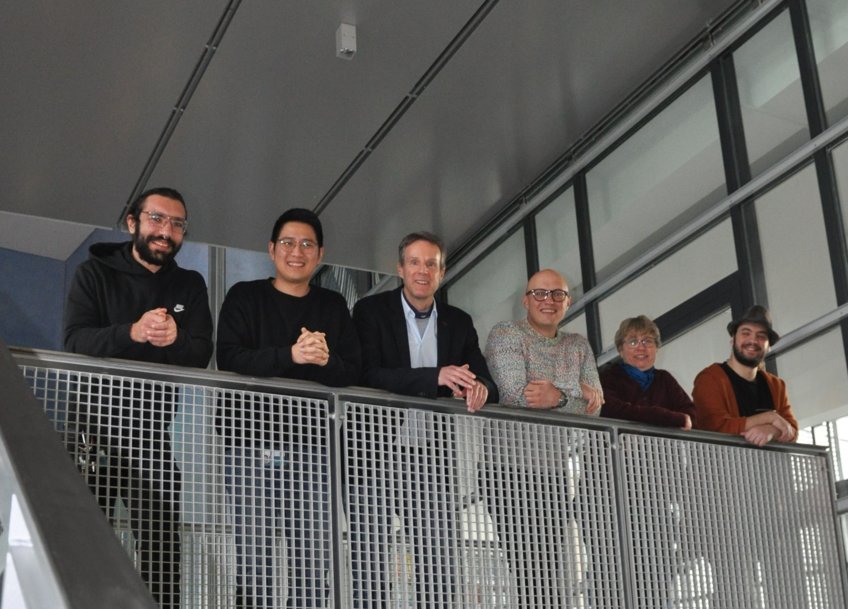 Publikationen von Nieves Lopez Salas
1.
Zeitschriftenartikel
Following carbon condensation by in-situ TEM: towards a rational understanding of the processes in the synthesis of nitrogen-doped carbonaceous materials. Journal of Materials Chemistry A (2022)
2.
Zeitschriftenartikel
Catalytic properties of high nitrogen content carbonaceous materials. Angewandte Chemie International Edition (2022)
3.
Zeitschriftenartikel
- and 4e- pathway in the oxygen reduction reaction with laser-synthesized iron oxide-grafted nitrogen-doped carbon. Journal of Materials Chemistry A (2022)
Modulating between 2e
4.
Zeitschriftenartikel
Sustainable oxidation catalysis supported by light: Fe-poly (heptazine imide) as a heterogeneous single-atom photocatalyst. Applied Catalysis B: Environmental
5.
Zeitschriftenartikel
7
(14), S. 11544 - 11554 (2022)
"We are here!" Oxygen functional groups in carbons for electrochemical applications. ACS Omega
6.
Zeitschriftenartikel
2
reduction. Chemical Communications
58
(31), S. 4841 - 4844 (2022)
Mn (II) sub-nanometric sites stabilization in noble, N-doped carbonaceous materials for electrochemical CO
7.
Zeitschriftenartikel
II
/Cu
I
decorated N-doped carbonaceous electrocatalysts for the oxygen reduction reaction. Journal of Materials Chemistry A
10
(11), S. 6107 - 6114 (2022)
Cu
8.
Zeitschriftenartikel
2
reduction reaction to formic acid. Nano Energy
97
, 107191 (2022)
Ni-based electrocatalysts for unconventional CO
9.
Zeitschriftenartikel
"Red carbon": a rediscovered covalent crystalline semiconductor. Advanced Materials
10.
Zeitschriftenartikel
PtRu nanoparticles supported on noble carbons for ethanol electrooxidation. Journal of Energy Chemistry
11.
Zeitschriftenartikel
16
(9), S. 14248 - 14296 (2022)
Real-space identification of non-noble single atomic catalytic sites within metal-coordinated supramolecular networks. ACS Nano
12.
Zeitschriftenartikel
10
(35), S. 18156 - 18161 (2022)
Improving hydrogen production for carbon-nitride-based materials: crystallinity, cyanimide groups and alkali metals in solution working synergistically. Journal of Materials Chemistry A
13.
Zeitschriftenartikel
Overcoming electron transfer efficiency bottlenecks for hydrogen production in highly crystalline carbon nitride-based materials. Advanced Sustainable Systems
14.
Zeitschriftenartikel
61
(37), e202206915 (2022)
Constructing interfacial boron-nitrogen moieties in turbostratic carbon for electrochemical hydrogen peroxide production. Angewandte Chemie International Edition
15.
Zeitschriftenartikel
13
(25), S. 29612 - 29618 (2021)
Caffeine-derived noble carbons as ball milling-resistant cathode materials for lithium-ion capacitors. ACS Applied Materials and Interfaces
16.
Zeitschriftenartikel
Guanine condensates as covalent materials and the concept of cryptopores. Carbon
17.
Zeitschriftenartikel
Ultrahigh water sorption on highly nitrogen doped carbonaceous materials derived from uric acid. Journal of Colloid and Interface Science
18.
Zeitschriftenartikel
94
(12), S. 2822 - 2828 (2021)
Carbonaceous materials: the beauty of simplicity. Bulletin of the Chemical Society of Japan
19.
Zeitschriftenartikel
x
N
y
: new carbon nitride organic photocatalysts. Frontiers in Materials
8
, 772200 (2021)
C
20.
Zeitschriftenartikel
Laser-carbonization: peering into the formation of micro-thermally produced (N-doped)carbons. Carbon