A model takes shape
Rumiana Dimova, group leader at the Max Planck Institute of Colloids and Interfaces and Carlos Marques, CNRS Senior Scientist at the Charles Sadron Institute in Strasbourg, publish "The Giant Vesicle Book".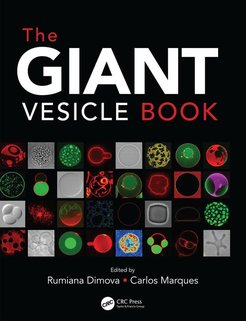 Lipids, the name that scientists give to fats, are as important to life as proteins and genes. They play a well-known important structural role by self-assembling in five-nanometer thick membranes that compartmentalize all biological activity into cells and subcellular structures. They play also a less understood but not less important role as subtle regulators of metabolism through membrane organization.

Giant vesicles, 5-100 micron large membrane globules, have over the past decades decisively contributed to elucidating the role of lipids in life by providing a biomimetic cell-size platform to study the structure and function of membranes. This book reviews and organizes the increasing contribution of lipid and polymer giant vesicles to the biological, the chemical and the physical sciences. Scientists in these fields will find a unique source of knowledge in the sheer amount of information on the almost 700 pages of "The Giant Vesicle Book". The organization of the book content as a textbook will appeal to students and professionals alike who want to join this exciting emergent field.

"The beauty of the book cover reveals a major advantage of these self-assembled soft-structures: they can be directly observed, manipulated and quantitatively studied under an optical microscope", explains book editor Rumiana Dimova. "Lipid membrane transformations can therefore be followed in real time when the giant vesicles are exposed to external forces such as those from electric fields and flows, to changes in thermodynamic conditions or to interactions with particles, ions, proteins or other molecules".

All the tricks of the trade are revealed from the first chapters of the book where the reader is carefully guided through the steps for forming giant vesicles from different lipids under several conditions. And since no experimental practice should be undertook without a sound theoretical knowledge of the foundations principles of lipid membrane self-assembly and transformation, about one fourth of the book is of a theoretical or numerical nature. Detailed description of established experimental approaches are accompanied with tips for careful work. Furthermore every chapter features a one-page boxed material summarizing important messages, while the Appendices include useful molecular information.

"In such a dynamic and rapidly evolving field it is very challenging to provide a comprehensive and up-to-date coverage of areas of interest and of relevant techniques", says book editor Carlos Marques "We came as near as possible to those goals by working very closely with the different contributors over the three years of this project".

And that certainly shows in the 30 chapters, the hundreds of figures and the more than a thousand references that "The Giant Vesicle Book" has now made available to the science and education community.
The Giant Vesicle Book
1st Edition
Rumiana Dimova, Carlos Marques
CRC Press
October, 2019 Forthcoming
Reference - 650 Pages
ISBN 9781498752176 - CAT# K27291
DOI: 10.1201/9781315152516
https://www.crcpress.com/The-Giant-Vesicle-Book/Dimova-Marques/p/book/9781498752176